What is a Pergola?
We get asked that question quite often, and to be honest, there are really a couple of answers.  At its simplest form, a pergola can simply be an area of vertical posts or pillars that support cross beams and a sturdy open lattice.  Of course, you cannot forget the trained ivy or climbing plants.  Pergolas in its simplest form are generally an unconnected or unattached structure that stands on its own.  They are often confused with patios, patio covers, arbors, trellis, and gazebos to some degree.  None of which are the same.
History of Pergolas
Pergolas go back as far as 1400 BC Egypt, where it is said that they were made from brick and stone, and again, were designed for the same purposes today, which is to help block the sun and provide some comfort and relaxation. The word pergola comes from the Latin word pergola, or "projecting eave".  With that definition, this leaves a lot to what a pergola can be.
With the resurgence of pergolas over the years, they have turned into much more than just a simple patio cover type structure.  Pergolas can be made from wood, vinyl, fiberglass, aluminum, and something called CPVC or chlorinated polyvinyl chloride rather than the large brick and stone pillars they were made from in early Egypt.  Wooden pergolas are generally now made from weather treated wood, such as red cedar or coastal redwood.  For a more economic version, most now use vinyl, fiberglass, CPVC, or aluminum, as we use in our products here at Palmiye.  Modern pergolas also often employ some form of motorized retractable roofing.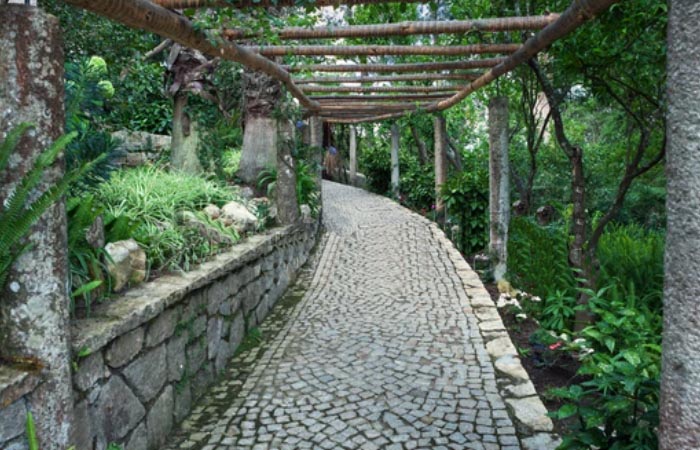 Ancient Egyptian pergolas were made from stone and brick pillars.
Less Expensive Do-It Yourself Pergolas
That being said, you can certainly go down to Costco or Home Depot and get a simple looking four post pergola with cross beams and some form of lattice or cover.  They are simple, provide some shade, and have some basic aesthetic value to them.  However, they aren't going to do much to improve your home value or get your guests taking selfies under it.  That is going to take a little more effort than the $799 special at Home Depot. There are significant differences between the pergola models that you can purchase online or at your home improvement store, and what a pergola manufacturer or installer will build.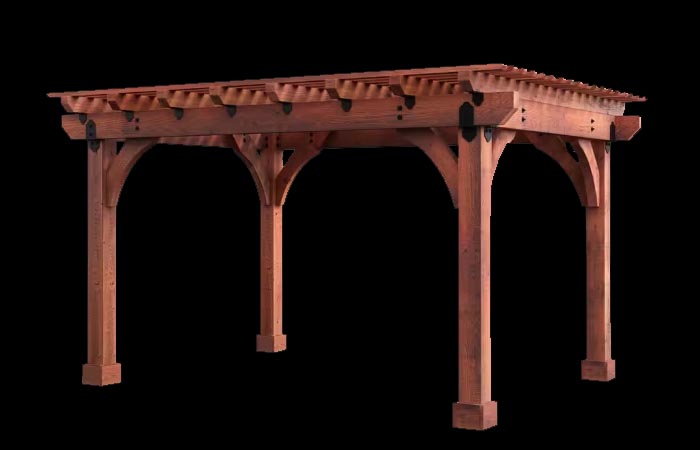 Simple wooden pergola sold at Home Depot, Lowes, or Costco.
Larger Wood & Aluminum Pergolas
The step up from the do-it-yourself style of pergolas are wooden pergolas and aluminum pergolas that are generally installed by a contractor or pergola company.  Most large wooden pergolas are open-sided and are usually made from red cedar or redwood .  They are usually aesthetically pleasing, but do not have the benefit of being waterproof. So, if you thought that watching the football game outside on the big screen TV was in your future, you may need to go with an enclosed aluminum pergola.  The aluminum pergolas are much more engineered than other pergolas.  They generally all have retractable roofs.  Some or most are motorized, and can be controlled by a remote control or phone app.  Aluminum pergolas come with siding as an option, along with lighting, and can be fully enclosed and waterproof, essentially making your outdoor living space almost like a new room addition.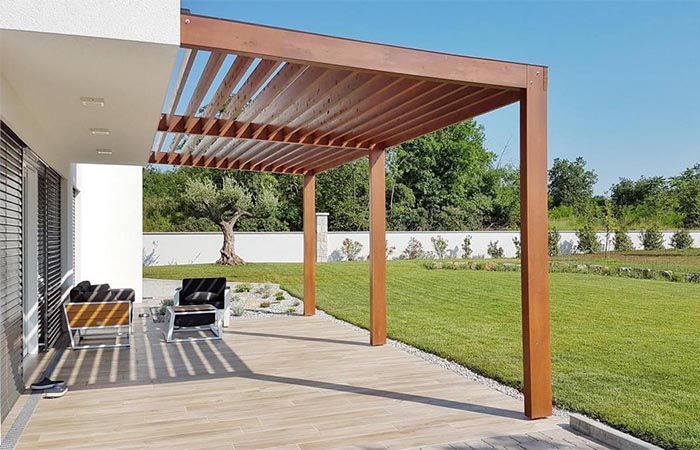 Attached and installed wooden pergola that a typical contractor builds.
Aluminum pergola with siding and motorized retractable roof from Palmiye.