Expose Your Outdoor World To Happiness…
Skyroof Compact Modern Retractable Pergola
The
Skyroof Compact Bioclimatic Retractable Pergola
is especially engineered to meet and exceed all expectations. It is our premiere product line and can be fully customized to meet just about any installation. The Skyroof classic pergola design, with a modern geometric shape and style, creates an opportunity to fully personalize your entire outdoor living space. The motorized retractable roof design allows you to set the tone for your outdoor scene. Allow as much or as little sunlight into your pergola to meet your needs. The Skyroof pergola system is completely waterproof, and is perfect for all weather conditions including rain, snow, wind, and sunlight.
The entire drainage system is integrated into the structure and lighting systems can be integrated into the roof as either linear or spot lighting.  Both of which can be completely controlled by remote control or a phone app.  
Each of our products are hand crafted and in itself unique, and from ceiling cover to the construction material, you can fully customize your products.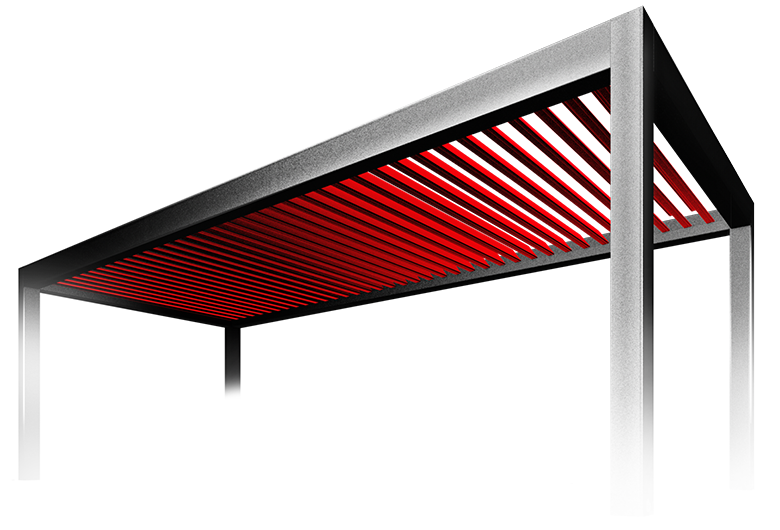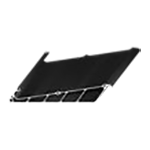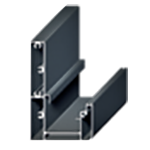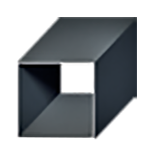 Aluminum Rotating Louver Roof
The Palmiye Skyroof Compact Series motorized rotating louver roof consists of rotating double layered extruded aluminum panels. Our revolutionary design allows the panels to fully rotate up to 120 degrees seamlessly.  When fully closed, the panels become 100% weatherproof and will protect the inside of the pergola from wind, rain, and snow.
This special rotating technology along with the superior double layered extruded aluminum is what stands out between the quality product that Palmiye manufactures versus our competitors.  When you see a Palmiye pergola in it's closed position, you will not see sunlight escaping between the louvers.  We hold ourselves to the highest manufacturing and installation standards.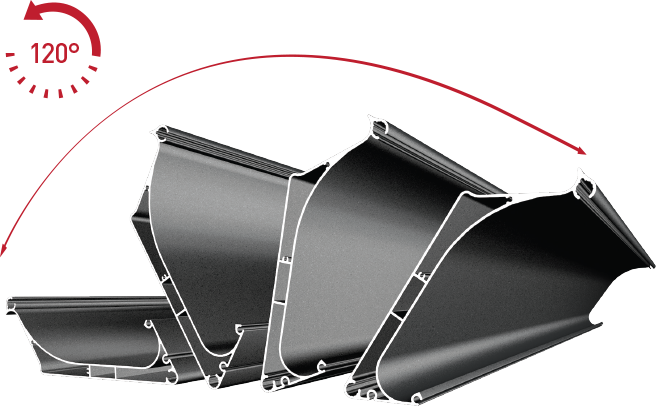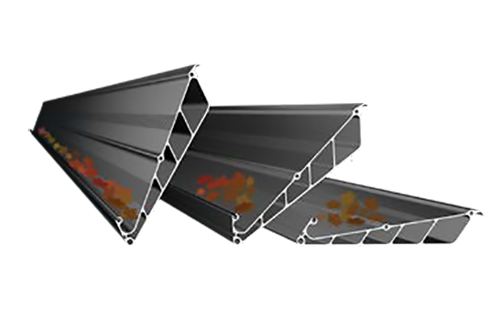 Stays Clean
The elliptical chamber on the top side of the
panel prevents any accumulated materials such as leaves and small debris from falling into your indoor space during the panel rotation.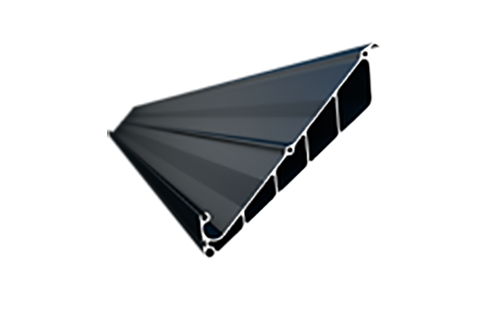 Panel Design
Our louver based roofing system has been perfectly designed and engineered to work in synchronization with the retractable motor to provide a quiet, and seamless rotation of the panels when opening and closing.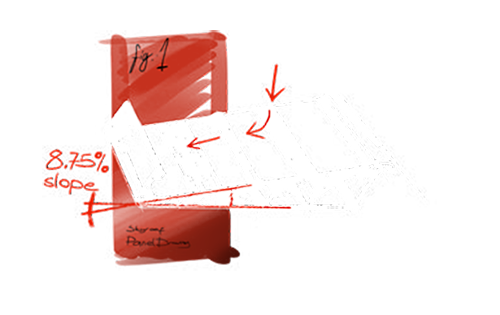 Panel Inclination
A 8.75% internal inclination on the top of each of the panels ensures perfect drainage and prevents
any water accumulation onto your pergola system, preventing it from leaking.
With the Skyroof Compact Series pergola system, there are a few different lighting options depending on which system you purchase.  The perimeter lighting comes standard with the Skyroof Prestige series pergola.  With the Skyroof Plus series pergola, you have a choice between the perimeter lighting or the linear lighting.  The perimeter lighting are LED strips integrated into the gutter profile. Whereas the linear lighting are LED modules positioned into the blades of the louver panels in the roof. 
You can dim the lights, change the color, or create moods, all directly from your Somfy Remote Control or through the app on your cell phone.  All lighting can also now be controlled using Alexa and Google Assistant.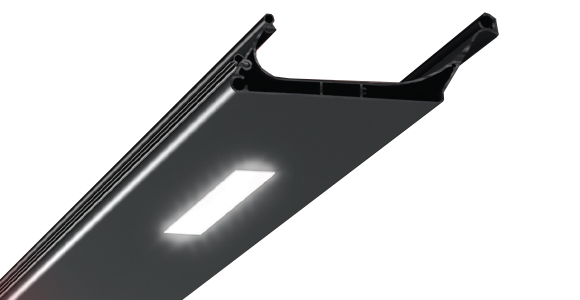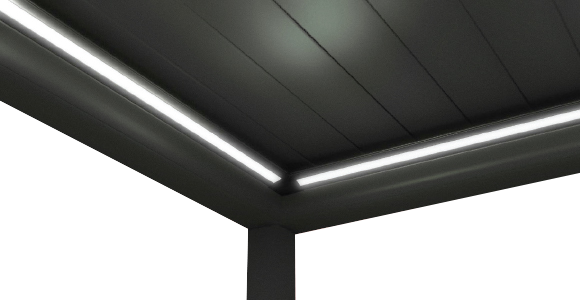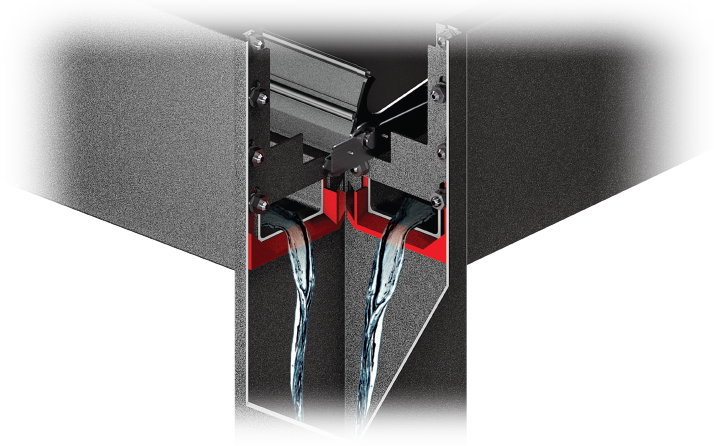 100% WATERPROOF TECHNOLOGY
WATER DISTRIBUTION SYSTEM
The distribution pieces route and accelerate the water  through the pillars and down and out through the bottom of the pergola system.
WATER BLOCK
The system also prevents rainwater entering the enclosed area, and leads it directly to the front gutter for perfect water drainage away from the pergola.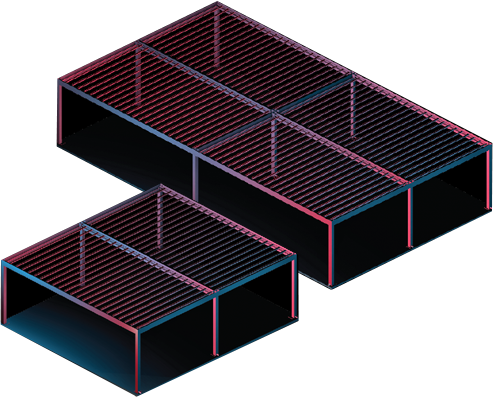 SKYROOF COMPACT SERIES STRUCTURAL DESIGN
The Skyroof Compact Series pergola offers a wide variety of modular construction possibilities by means of its flexible and compact structural design.
WALL MOUNTED / FREE STANDING
The Skyroof Compact Series pergola system can also either be wall mounted or free standing, all depending on the customization of the product.  Talk with your design specialist about customizing the perfect pergola for you.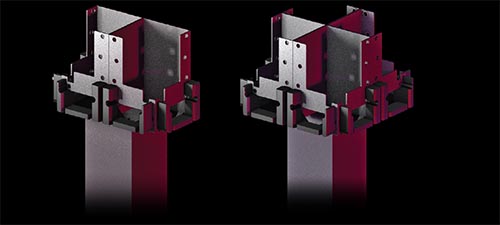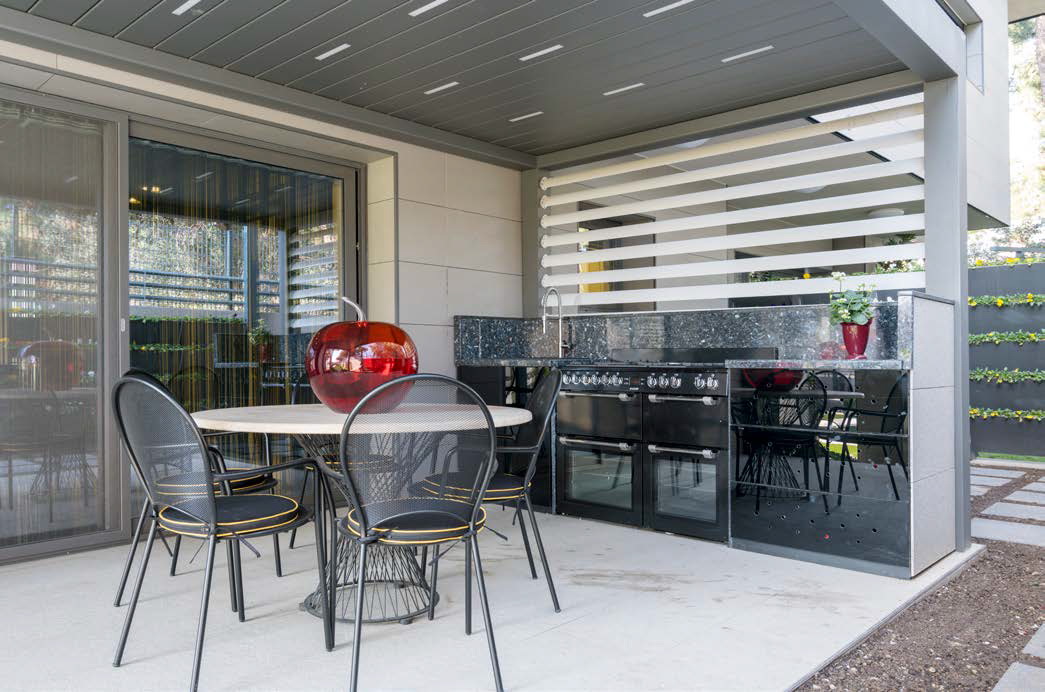 PERGOLA DESIGN SPECIFICATIONS
 Skyroof Compact Pergola Dimensions/Options
Dimensions (Width)
11′ 5 3/4″

(350cm) max

Dimensions (Projection)
16′ 9 3/4″

(412.3cm)

Max Open Space
79%
Roof/Roofing
Motorized Retractable Louver Roof
Insulated Louver Panels
Optional
Snow Load
268 kg/m2
Siding
Glass, Aluminum Slats, Aluminum Walls, Fixed Louvers, Drop Arm Awning, Vertical Zip Blind, Vertical Blind
Sensors
Sun Sensor

Wind Sensor

Color
Any Standard Color / All RAL Colors
Motorized Pergola
Somfy Single Motor, Somfy Double Motor
Control Type
Remote Control
5 Year Warranty
Aluminum, Motor
1 Year Warranty
Remote Control
RECENT CUSTOMER INSTALLATIONS
Skyroof Compact Series Retractable Pergola Installations
Are You Ready To Get Your Outdoor Project Started?
The Palmiye California design specialists are standing by to work with you on your commercial or residential project.  Whether you are looking to expand your commercial outdoor space or just create a relaxing back yard get-away, Palmiye has the perfect custom designed product for you.  Reach out to one of our team members for a design consultation today.