Pergola vs. Patio Cover
If you are looking to add some shade to your back yard or even create an outdoor kitchen, you are probably wondering what direction you should go. Do I put up a patio cover or a pergola? What are the differences between the two? Ultimately both pergolas and patio covers will provide some basic sun and weather protection, but there are some differences that you should be aware of before deciding.
In this article, we will break down the key differences between patios and pergolas to hopefully help you make an informed decision.
Pergolas vs. Patio Covers
Several factors that you need to consider immediately upon deciding to put either a patio or a pergola up in your outdoor space are:
How large is your outdoor space?
Do you wish to have a pergola or patio cover attached directly to your home structure or home?
Are you looking for this space to be enclosed or open on the sides and front?
What are your current HOA requirements regarding patios and pergolas? This is something you should explore before you commit to anything.
Before we get started, it is important to dispel some inconsistencies about what most people believe a pergola to be. You are going to read a bunch of information online and most articles talk about pergolas as though they are like an easy-up canopy you purchase at Costco.
Pergolas can be freestanding structures, but they do not have to be. It can be connected to a structure and can be enclosed, making it almost appear as a room addition.
Pergolas can have lattice roofing, but again, they do not need to. A pergola can have a motorized retractable louver-based roofing system that can be open and close fully or partially by a remote control or phone app.
Pergolas can be unsteady. They can be unsteady if they are simply a wooden pergola with four posts and basic cross beams. However, a pergola can also be made from aluminum or redwood and be as steady as the structure you are placing it against or attaching it to. It all depends on the installation, and how much of an investment you are making with the purchase of the product.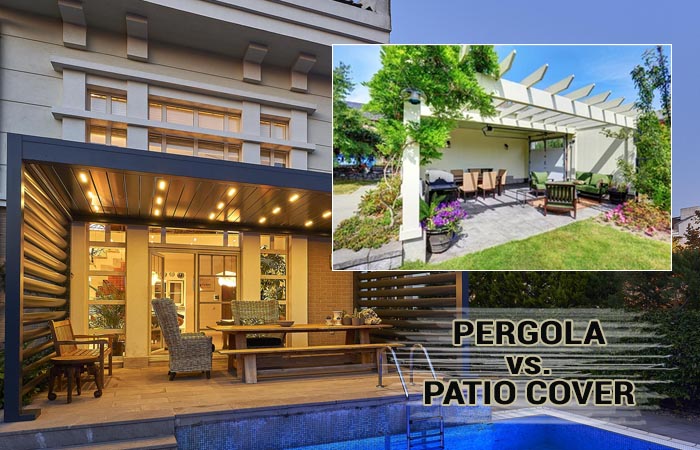 Pergola vs. Patio Cover – Understanding the differences.
Patio Covers
Adding a patio cover to your home is a great way to add a bit of value to your home and give you some protection from the sun during the summer months. It is great for entertainment and protects your patio furniture, bar-b-que, and other back yard items from bleaching and sun damage. If built correctly, patio covers can also offer some protection from rainy days. They also allow for basic electrical and lighting as well. However, a patio cover is generally limited in most degrees when it comes to enclosing the patio on each of the sides. Although you can purchase various add-ons for a patio, like patio screen shades, patio canopies, and patio trellis, overall, a pergola is much better suited to be a fully enclosed structure.
Patios can help improve the overall look and facade of your property. They can be built with attractively stained wood, painted wood, or even pressure treated wood. Overall, some of the best built patios not only look good, but also work to help insulate the back of your home from the harsh sun, and at the same time they are great for entertaining guests or having a relaxing weekend with your family.
Pergolas
Pergolas come in all shapes and sizes. In this article, I am going to presume a few things. First, I am presuming that you are doing a residential installation. Second, I am presuming that you are looking for a larger pergola or patio cover structure that will require a certain level of installation and isn't something you plan on picking up down at Home Depot or Lowes this weekend.
Pergolas installed by a company can be fully customized to fit just about any shape and size in your back yard. As with the patio cover, a pergola installed in your back yard will not only add aesthetic value to your home, it will also almost certainly add to your overall property value.
Most pergolas are made from vinyl, fiberglass, wood, or aluminum. Most wood pergolas are made from redwood or red cedar, both of which are fairly common and easy to get. Prices are going to vary from state to state, but overall redwood and cedar are comparable in pricing with redwood slightly higher due to its overall sustainability. You also need to consider the maintenance involved with wood. Most wood like cedar will need to be treated about every 4 years with a clear stain. Aluminum pergolas will be maintenance free for more than a decade or two and will require very little maintenance throughout.
That being said, most pergola companies will help you design and customize your pergola to any specific shape and size. You can have it fully enclosed or open on all sides. Really, the customization is almost unlimited.
Here are some basic customizing considerations:
Do you want a wood or aluminum pergola?
Do you want the roof to be retractable?

Do you want a motorized aluminum louvered retractable roof?
Do you want a motorized fabric retractable roof?

Do you want the pergola to have enclosed sides?

Options include glass, aluminum slats, aluminum walls, fixed louvers, drop arm awning, vertical zip blinds, or vertical blinds.

Do you want flooring?
Do you want electrical & lighting?
Do you want rain, sun, and wind sensors?
The advantage to an aluminum pergola with Palmiye is that the pergola is engineered to work maintenance-free throughout the year, in all seasons. The aluminum columns are designed to funnel rain down and out and away from the pergola. If you choose a siding option, the pergola can become 100% waterproof, which will allow for any type of furniture and electronics to be placed and kept within the pergola. Sensors can be added to close the roof during changes in weather such as rain or wind. You can also choose a pergola that has limited front beams to allow for 100% view of your outdoor living space. Your entire pergola can also be controlled through a remote control, or an Alexa enabled phone app.
Another critical advantage to working directly with us here at Palmiye is that we are both the manufacturer and the installer for all of our products. When changes need to be made, or you decide to add something to the installation, at all times you are working with the entire team. Our top competitors do not have that advantage. They are essentially the distributor of a pergola manufacturer's products. This makes things frequently difficult, especially when attempting to get things changed, upgraded, or even repaired.
Pergola vs. Patio Cover: How to Choose
Both patio covers and pergolas offer basic protection from the elements, shade, wind, rain, etc. When considering the two, it comes down to needs and preferences such as features and functionality, aesthetics, maintenance, and cost.
Features / Functionality
Patio covers are often the easiest way to provide shade and protection from the elements in your backyard. Most contractors can build a basic patio cover, and it requires very little in terms of design and work.
With a pergola, unless you are buying one from either Costco or Home Depot, you will need to find a pergola company like Palmiye and have it customized and installed. Fortunately you came to the right place and we can definitely help you through the process and design an outdoor living space that will make you forget the words patio cover.
Overall, in terms of features, a pergola is going to have the corner on the market here. From the very structure of the pergola, they are designed to deflect the elements such as the sun, wind and rain. The columns work with the roof to deflect water and funnel it to the ground and away from the structure. There are also a myriad of other options such as a retractable roof, aluminum or glass siding, lighting, and so much more. Pergolas by their very nature are designed to bring luxury and comfort to your outdoor living space.
This also makes pergolas great for entertaining. With folding or sliding glass walls and doors, the pergola can turn into a completely open outdoor space in minutes. In the same time, they can close and become an indoor space within your outdoor space and protect you from the elements. Either way, your guests are always provided with the level of comfort you choose.
Aesthetics
Whether you have a patio cover or a pergola in mind, both have an overall nice aesthetic value and benefit to your home. Both can be installed in almost any place. However, at the end of the day, adding an aluminum pergola is going to provide you with the most aesthetic value for your money, and in almost all cases, it will add the most to the overall resale value of your home.
Maintenance
Patio covers or wood pergolas are going to need more maintenance than an aluminum pergola structure. About every four years you will need to either repaint or re-stain the wood to keep it looking new. At about 10 years, wood will start to need replacing. You will also need to inspect the roof often and consider replacing it as well by the tenth year. Wood rot, pest control and termites are a real issue as well.
The Palmiye aluminum pergolas have an electrostatic powder coating that will last for more than 20 years. If you have chosen the Skyroof series and have a motorized aluminum louver roof, you will not need any maintenance on the roof for more than 20 years. The louvers are designed to prevent water or wind from entering the pergola through the roof. The only maintenance that you will need may be that of cleaning off the sides or roof from time to time, depending on leaves that may have fallen from an adjacent tree.
Cost
Determining cost differences between a patio cover and a pergola can be difficult. If you determine the costs solely on the initial investment and do not take into account the life of the product, the patio cover is going to be less expensive.
However, when you factor into it the lifetime of each product, things start looking quite different. For example:
The average patio cover starts needing maintenance within the first four years of owning the product. You will need to have the patio cover repainted or re-stained, depending on what choice you make. Typically speaking in this situation, you hire someone to come out and accomplish this for you. Then, within the next few years you will also need to start considering replacing some of the wood on your patio cover. At the same time, it is overdue for a new roof on the patio cover. To recap, within 4-6 years of owning the patio cover, you have now almost completely replaced the product. This also does not consider wood rot, termites, or water damage.
Conclusion
Overall, over a 10–12-year period, your patio cost doubles, as you perform the needed maintenance. The same can be said of a wood pergola. Whereas, with an aluminum pergola, it will hold up over time. Something also to note. The overall increase in property value that an aluminum pergola will bring to your home is far more substantial than a standard patio cover or wood pergola. The aluminum pergola is a much better investment in your home and from an entertainment aspect, the results can be amazing. I will leave you with the picture below. The perfect entertainment room.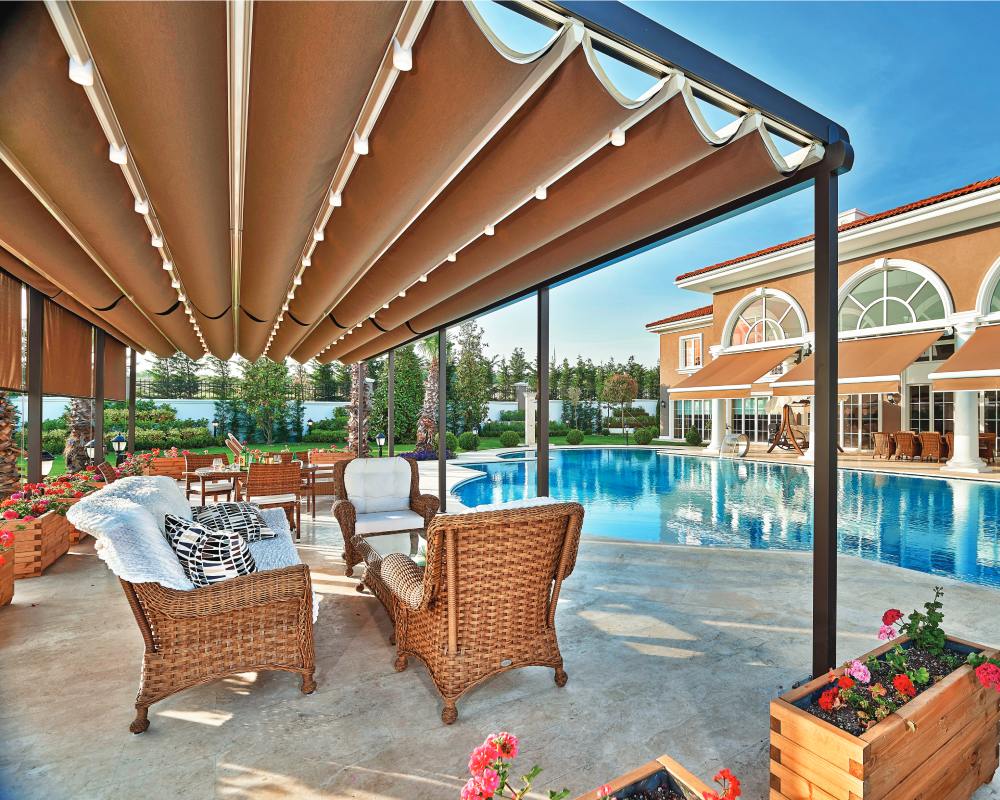 Find the right Palmiye pergola for your home.